The Rising Trend of Teens Using AI for Schoolwork
Insights from a Recent Survey
Author: Kelsey Matzinger
Entrepreneurship
Published: Thursday, 27 Jul 2023
---
Sharing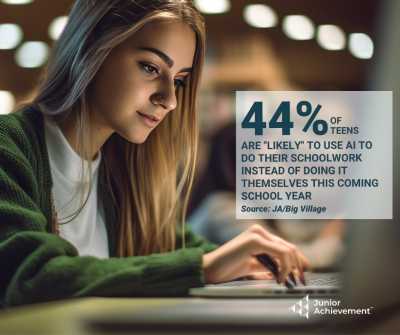 Image caption: A statistic that states 44% of teens are "likely" to use AI to do their schoolwork instead of doing it themselves this coming school year.
In today's digital era, the integration of artificial intelligence (AI) in various aspects of our lives is becoming increasingly prevalent, and education is no exception. A recent survey conducted for Junior Achievement and research firm Big Village aimed to shed light on the growing reliance of teenagers on AI to complete their schoolwork. The findings, encompassing the thoughts of 1,006 13- to 17-year-olds, provide valuable insights into this emerging trend and its implications for students' learning experiences and ethical considerations.
The Rise of AI in Teens' Schoolwork
The survey revealed a striking revelation with almost half of the participating teens (44%) expressing their likelihood to use AI as a means to tackle their schoolwork in the upcoming 2022-2023 academic year. However, despite their inclination towards AI, a significant majority of teens (60%) perceive this reliance as a form of "cheating." This contradiction raises important questions about the ethical dimensions and the potential consequences of this behavior on students' education.
Insights into Teen Behavior and Perspectives
In addition to the statistical data, the survey delved into the reasons behind teens' adoption of AI for their schoolwork. The responses highlighted diverse motivations, including considering AI as just another tool for schoolwork (62%), expressing discontentment with school or schoolwork (24%), believing that AI eliminates the need to acquire knowledge (22%), succumbing to peer pressure (22%), fearing poor performance without AI (17%), and deeming subject knowledge as unimportant (8%). These insights provide a comprehensive understanding of the factors driving teens' reliance on AI and the underlying mindset behind their choices.
The Ethical Dilemma
Jack E. Kosakowski, President & CEO of Junior Achievement USA, believes that while generative AI can be a valuable tool to enhance productivity, there is concern that many individuals, especially teenagers, perceive it as a shortcut.
"Generative AI can be a great tool to boost productivity, but unfortunately many people, especially teens, are seeing it as a shortcut," said Jack E. Kosakowski, President & CEO of Junior Achievement USA. "The misuse of AI to do all schoolwork not only raises ethical concerns, but this behavior could also short-change many students' educations since they may not be learning the subjects they are using AI for. Given the growing demand for marketable skills, this could become very problematic."
Implications for Education and Future Skills
The survey's additional findings reveal that 48% of teens reported knowing friends or classmates who have utilized AI to complete their schoolwork. This widespread practice among peers further highlights the normalization of AI usage in educational settings. As education evolves to meet the demands of the digital age, it becomes crucial to assess the implications of this trend on traditional teaching methods, students' critical thinking skills, and the acquisition of in-depth subject knowledge. The importance of equipping students with marketable skills cannot be understated, and striking a balance between leveraging AI's potential benefits while preserving the value of a comprehensive education becomes vital.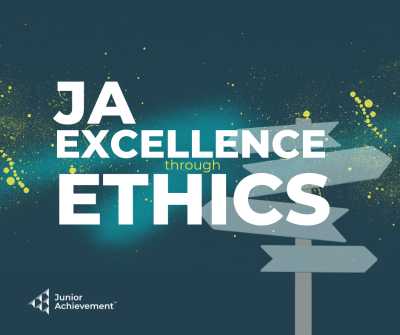 Junior Achievement's Focus on Ethics
While Junior Achievement primarily focuses on financial literacy, work and career readiness, and entrepreneurship learning experiences, ethics remains a common thread throughout our lessons. JA recognizes the importance of instilling ethical values in young individuals. Programs such as the JA Excellence Through Ethics program aim to foster ethical decision-making skills, encouraging responsible and thoughtful use of technology, including AI, in education.
The survey conducted by Junior Achievement in partnership with Big Village provides crucial insights into the rising trend of teens relying on AI for schoolwork. While generative AI presents immense potential, it is essential to navigate the ethical considerations and the impact on students' learning experiences. As we continue to witness the integration of technology in education, it becomes imperative to strike a balance between leveraging AI's benefits and fostering a comprehensive and ethical educational environment.
We use cookies to provide you a personalized experience. How we do this is by analyzing user behavior on our site and sharing data with our advertising and analytics partners. You consent to our cookie policy if you continue to use this website.