JA National Student Leadership Summit 2023
Author: Kelsey Matzinger
Entrepreneurship
Published: Thursday, 22 Jun 2023
---
Sharing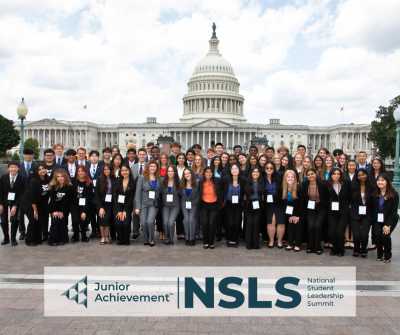 Image caption: Students competing in the NSLS in front of the Capitol Building
In June 2023, the Nation's Capital hosted a remarkable event as 15 exceptional student companies from Junior Achievement gathered to compete in the 2023 Junior Achievement National Student Leadership Summit (NSLS).
The NSLS celebrates the business skills, ingenuity, and innovation of JA Company Program® students aged 15-18 in the United States, showcasing their remarkable accomplishments throughout the 2022-2023 academic year. With over 10,000 U.S. students participating and creating more than 500 start-up ventures, the JA Company Program empowers young entrepreneurs to establish and operate real business enterprises, guided by dedicated volunteers from the local business community. These ambitious students devise and market products or services that address unmet consumer needs, while also seeking investors for their ventures.

"Our organization highly values Junior Achievement's student events as they play a pivotal role in providing our students with invaluable opportunities to apply the concepts they have learned through the JA Company Program®," said Jack E. Kosakowski, President & CEO of Junior Achievement USA. "These events serve as a platform for them to showcase their skills in collaboration, creativity, critical thinking, communication, and sound business practices. Witnessing the remarkable professionalism and unwavering passion for entrepreneurship at this summit fills me with confidence in our future. These young individuals are a living testament to the profound impact of Junior Achievement."
Inside the NSLS 2023
The student companies underwent rigorous evaluation on various criteria. These included assessing their financial performance, evaluating the personal and professional development of individual team members, producing a compelling commercial showcasing their product or service, delivering a live presentation to a panel of esteemed business leaders, and demonstrating their company's performance at an Entrepreneurship Expo on Capitol Hill. The expo held special significance as it was attended by Members of Congress and Congressional Staff, providing the student entrepreneurs with a remarkable opportunity to showcase their ventures at a national level.
After careful evaluation and scoring by the judges, several outstanding JA student companies received well-deserved recognition and awards at the NSLS 2023:
JA Company of the Year: Awarded to the student businesses that most effectively demonstrated their companies' achievements, as well as the personal development of each team member.
Delta Social Impact Award: Awarded to the student team that created a solution to address a local, national, or global social concern.
FedEx Global Possibilities Award: Awarded to the student company that best exhibits the principles of global connectivity.
ICE Best Financial Performance Award: Awarded to the student team that demonstrated the best financial results, including profitability, investor expectations, employee earnings, product quality, leadership, and operational efficiency.
2022 JA National Student Leadership Summit Final 15 Teams
4Paws – JA of South Florida (Fort Lauderdale, FL)
4Paws minimizes the hassle of taking your dog out and provides a safe and trouble-free way to have a nice day out with your dog.
Battery Drop – JA of North Central Ohio (Canton, OH)
The Battery Drop is a 6"x12" cylinder with a specially designed wrap that educates our users on the benefits of battery recycling. Our Battery Drop product has an attached battery tester to ensure users get the maximum life out of their batteries before recycling them in our unit.
CANVAWRAP – JA North (Minneapolis-St. Paul, MN)
We have upcycled burlap bags from local coffee shops to create eco-friendly gifts. Burlap is a biodegradable material, providing an alternative option to plastic. We have utilized burlap to create wrapping kits that include a square sheet of burlap and come with all-natural accessories. We also have burlap-wrapped succulents, decorative vases, and flower wraps.
Charm Dept. – JA of Greater Miami (Miami, FL)
Charm Dept. is a student-owned and managed company that produces and manufactures shoe charms utilizing 3-D printing to offer competitively priced school merchandise relative to other options available to students, faculty, alums, and parents today.
CocoLoco – JA of San Diego County (San Diego, CA)
Our mission is to provide high-quality, eco-friendly coconut products and gifts that serve as home decor while aligning ourselves with a strong belief in giving back to the community and making a positive impact on the world.
Emocean – JA of North Central Ohio (Canton, OH)
Envisioning a world where no child struggles with mental illness, Emocean's mission is to help children develop valuable social-emotional skills they can use throughout their lives. Emocean is an innovative, gamified solution to help those who lack the knowledge to effectively identify and communicate their emotions.
EVO – JA of Southeast Texas (Houston, TX)
Our mission is to promote well-balanced lifestyles by assisting individuals in their self-care journey. Through consistent nourishment of the different dimensions of wellness, our vision is to create lasting change in the routines of adolescents and young adults.
LAF Lounge – JA of Greater St. Louis (St. Louis, MO)
A company dedicated to growing a positive, personal, and inspiring community that satisfies all customers with quality and reliable apparel.
ProFin Technologies – JA of South Florida (Fort Lauderdale, FL)
ProFin Technologies provides individuals with a simple and reliable approach to financial protection through a variety of technology accessories, along with education through our curricula and partnerships.
Simply Co. – JA of Southeast Texas (Houston, TX)
Simply Co. has maintained a strong company tradition of creating products that help our customers seamlessly integrate sustainability into their lives. Furthermore, we push for entrepreneurship, innovation, and activism by involving high schoolers and local businesses to champion sustainable living within our community.
SqueaKey Klean – JA of Northern California (San Francisco, CA)
SqueaKey Klean has distributed over 479 cleaning units through sales to our community and has donated 5% to Toxic-Free Future, a nonprofit benefiting the environment.
Talk Blox – JA of Northern California (San Francisco, CA)
Talk Blox aims to foster a sense of community and build stronger relationships and new connections, by getting to know those around you.
TriSense – JA of Greater Boston (Boston, MA)
TriSense is a company dedicated to assisting those with intellectual and developmental disabilities, particularly in public settings. Through our sensory kits, we aim to create a more accessible and open world for all.
Venture Prize– JA of Central Upstate New York (Binghamton, NY)
Our company strives to develop locally themed products that highlight the beauty, vitality, and opportunity within Broome County, bringing together the Greater Binghamton community.
Youthful Thinkers – JA of Southeastern Pennsylvania (Philadelphia, PA)
To give kids an expanded worldview using stories and activities to encourage meaningful conversations.
We use cookies to provide you a personalized experience. How we do this is by analyzing user behavior on our site and sharing data with our advertising and analytics partners. You consent to our cookie policy if you continue to use this website.