28th Annual Junior Achievement Golf & Tennis Invitational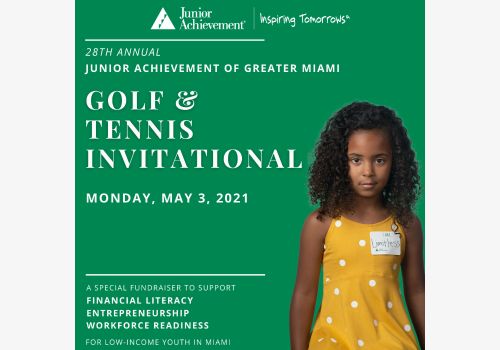 Event Completed!

When: Monday, June 15, 2020
POSTPONED
Where: Deering Bay Yacht & Country Club, Coral Gables, FL
Time: 10:15 AM EST
Each year, South Florida's corporate elite gather together to help raise valuable funds that provide economic education programs to over 33,000 students across Miami-Dade County. The Junior Achievement Golf & Tennis Invitational is designed to enhance relationships with customers, prospects, and business community leaders while supporting a worthy cause. All participants, including sponsors and players, are given the opportunity to network with like-minded individuals, spreading word about their own endeavors, while helping provide disadvantaged children in our community with programs that teach financial literacy, work readiness, and entrepreneurship.

Although this event is exceptionally high-profile, tournament sponsors recognize the event is a tool used to further the mission of Junior Achievement, and as a result, all sponsor packages include direct student and school sponsorships as the primary benefit of their sponsorship. Therefore, all sponsorship packages have "student and school sponsorships" as a part of their sponsor benefits. If there is a specific school you'd like to see benefit from Junior Achievement programs, please let us know!

Event Schedule:

10:15 AM | Golf Registration, Pop-Up Store, Lunch
11:30 AM | Call to Carts
11:45 AM | Shotgun Start!
1:00 PM | Tennis Registration, Pop-Up Store
2:00 PM | Tennis Matches Begin!
4:45 PM | Cocktail Reception, Auction, Awards Presentation

To view available sponsorship opportunities, please click "SPONSORSHIP OPPORTUNITIES" below.
Need More Information?
"Junior Achievement reinforced concepts for me to remember later in life."
Junior Achievement Student
"I thought the experience was amazing. The presentation was unlike anything I've seen."
Junior Achievement Student
"Junior Achievement has given me a sense of what adults go through with budget issues."
Junior Achievement Student
"I liked how the Junior Achievement volunteer explained his job to us."
Junior Achievement Student